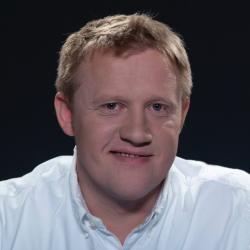 Stanislau Ivashkevich is the founder of Belarusian Investigative Center (registered in Czech Republic), producing over a dozen of investigations of corruption per year.
Stanislau Ivashkevich received national Free Word awards for a journalistic investigation in 2018, 2019 and 2020 (annual competition held by Belarusian Association of Journalists) and Show of the Year award (2019) from Belsat TV for the investigative TV program. In journalism since 2009. Before engaging in journalism Stanislau worked for market intelligence companies Euromonitor International Plc and Marcus Evans Plc.

After the 2020 presidential election in Belarus, Stanislau went missing for a few days. The independent journalist was incarcerated for alleged unlafwul activities. He spent days in a prison cell that fits 3 people. Then, it hosted 13 detainees, some of them injured by the security forces. For two days, all these people received no food, apart a single loaf of bread for all of them. Stanislau was released from custody after the journalist community undertook active efforts to seek his release. He was fined for participating in 'unsanctioned activities'. The court refused to look at Stanislau's evidence on the fact that all he was doing was reporting.
Twitter: @StasIvasBIC