Solidarity with Ukraine. This is the first and last sentence of this conference."
Against the backdrop of Russia's ongoing war in Ukraine, and the incalculable damage it is inflicting on the country's journalists and media workers, ECPMF's Managing Director, Dr. Lutz Kinkel, opened the 2022 IJ4EU UNCOVERED Conference with a message of solidarity. This was echoed by opening statements from Jörg Wojahn, Head of Representation at the European Commission; Scott Griffen, Deputy Director at IPI; and Lars Boering, Director at EJC.
Keynote Address – Anna Babinets, Ukrainian investigative journalist and editor at OCCRP
"We are professional investigative reporters but for a month we were preparing for the war."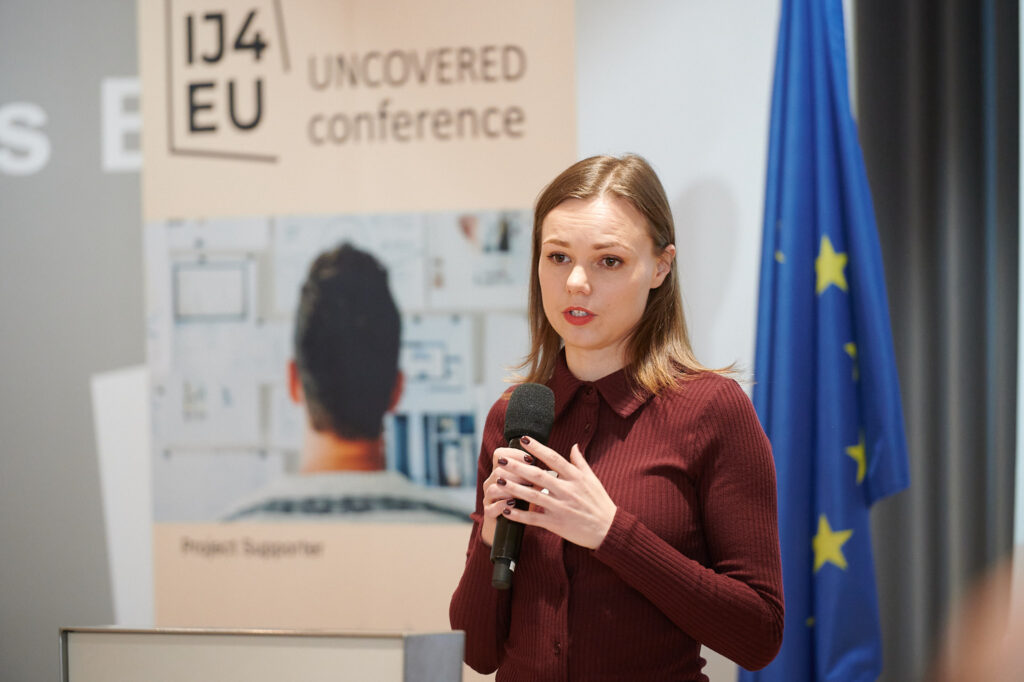 The opening remarks were followed by a keynote address from Anna Babinets, Ukrainian investigative journalist and editor at the Organized Crime and Corruption Reporting Project (OCCRP).
The keynote mused on the resilience of investigative journalists – in particular during times of conflict and hardship – as Anna reflected on the challenges of continuing her work during the war while also looking after her young family. As the role of Ukrainian investigative journalism began to blur with war journalism, Anna spoke about how her team would continue their in-depth investigative work regardless of the circumstances:
"We do everything to make our dreams true. I want to be an investigative journalist. I hope one day my daughter will see her dad, her grandparents, and her classmates. Glory to Ukraine."
UNCOVERED Day 1 – Investigating Europe's "near abroad", countering SLAPPs, and funding investigative journalism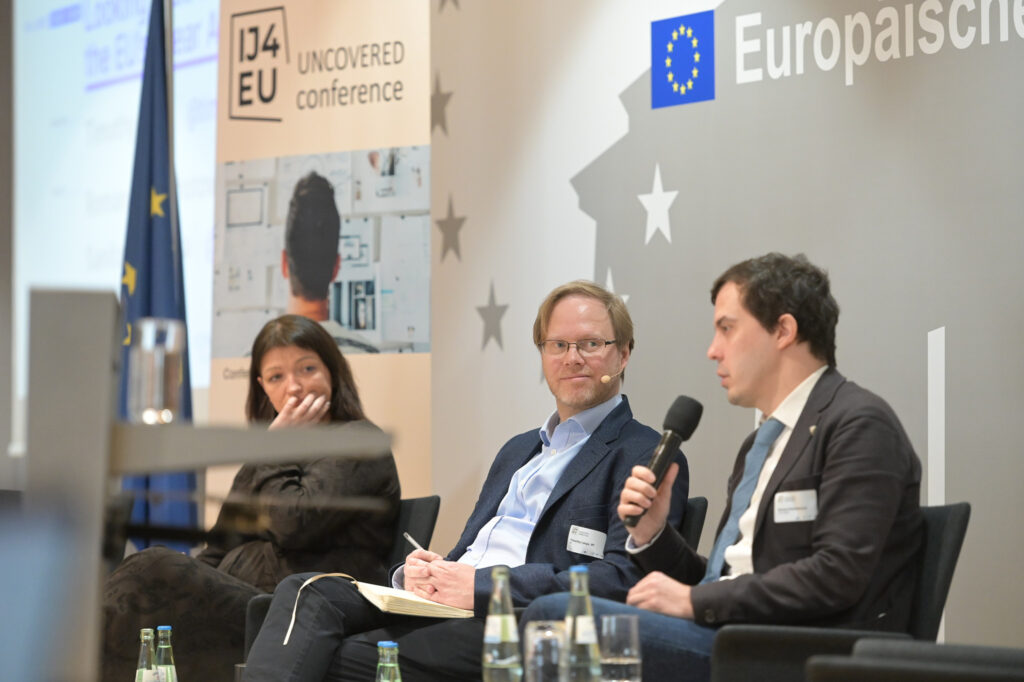 The first of the conference's panels, Looking East: Investigating the EU's "Near Abroad" provided a deep-dive into several IJ4EU grantees' cross-border investigations linked to Russia, Belarus, and Ukraine. During the session, moderated by Timothy Large, IJ4EU Programme Manager, International Press Institute, audience members heard from Roman Dobrokhotov, Editor-in-Chief at The Insider, and Sanita Jemberga, Executive Director at The Baltic Center for Investigative Journalism.
After hearing about IJ4EU grantees' investigations, UNCOVERED moved onto a discussion on SLAPPs and how best to protect journalists from them. The panel, moderated by Greenpeace's Charlie Holt, featured ARTICLE 19's Sarah Clarke, ECPMF's Flutura Kusari, investigative journalists Saranda Ramaj, and Pia Lindholm, Deputy Head of Unit for Civil Justice, Directorate-General Justice and Consumers of the European Commission. Although the panel struck a bleak note, highlighting the severity of SLAPPs' impact on the work of investigative journalists, Flutura Kusari brought her intervention to a close with an uplifting and defiant promise: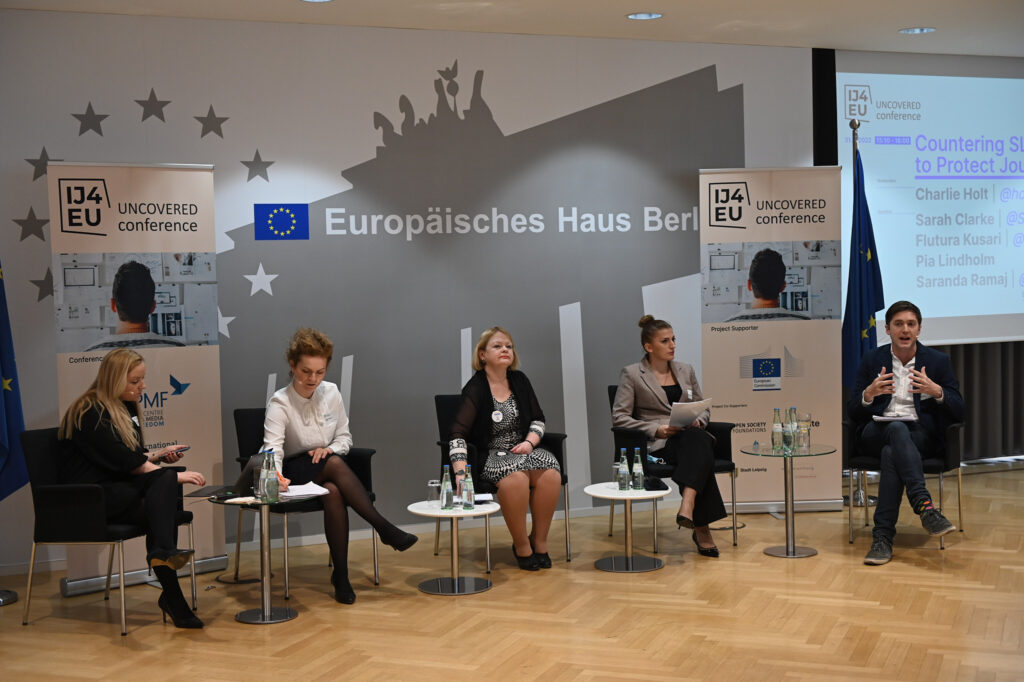 "We make sure that we name and shame every bad lawyer that enables powerful people to go after journalists. We can't do much but we'll make sure that in every event and every publication, we will name them. Let me promise publicly: We will continue to name and shame."
The final panel discussion of the day, New Donor Strategies: How to Fund Your Investigation?, was moderated by ECPMF's managing director, Dr. Lutz Kinkel. The session also featured input from Ebru Akgün, Ekaterina Mandova of Civitates, and Nikolaus von Peter, Political Advisor to the EU Commission Representation in Germany. During the discussion, audience members heard about existing and upcoming EU Commission funding opportunities for journalism, the identity crisis facing modern media, and how sustainability-oriented funding can help independent media weather the ongoing storm. Specifically, Ekaterina Mandova outlined Civitates' solution:
"Journalism is going through an identity crisis. When we talk about sustainability, we shouldn't just think about the money. At Civitates, we want to provide our partners with breathing space by providing core support and by creating reliable networks."
IJ4EU Impact Award
The first day of UNCOVERED 2022 ended on a high, with the IJ4EU Impact Award Ceremony. During the ceremony, three investigative teams were awarded €5,000 for excellence in cross-border investigative journalism. Selected by an independent jury, the winning investigations were:
The Pegasus Project
Frontex Complicit in Pushbacks
The Logbook of Moria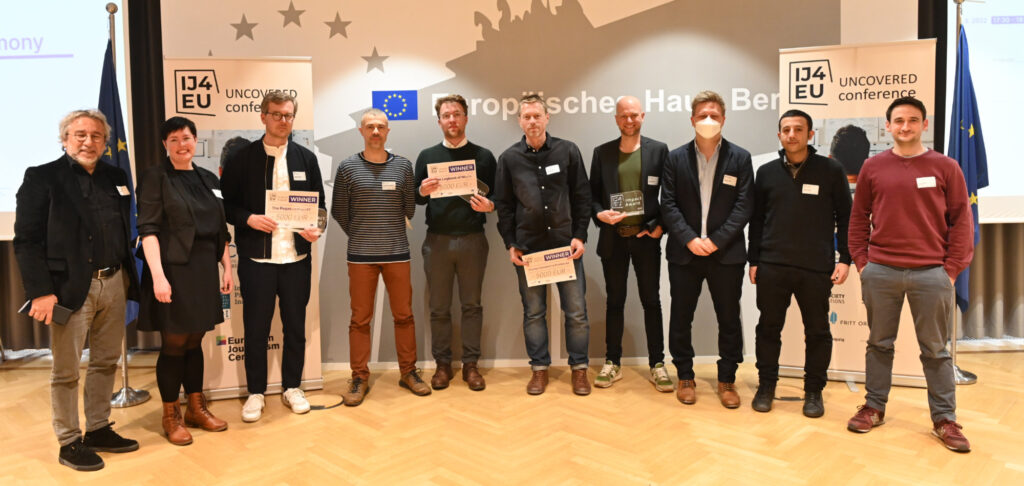 First prize went to The Pegasus Project, a collaborative investigation into the global misuse of the Pegasus spyware against civil society around the world led by The Forbidden Stories consortium and Amnesty International. Speaking on behalf of the team, investigative journalist Frederik Obermaier said:
"This was one of the most challenging investigations – and one really close to my heart".
The jury also gave an honourable mention to a fourth investigation, Cities for Rent.
---
UNCOVERED Day 2 – EU migration policy, digital surveillance, and protecting freelancers
The second and final day of UNCOVERED 2022 opened with introductory remarks from Věra Jourová, Vice President of the European Commission for Values and Transparency. Vice President Jourová spoke about the value of cross-border investigation and how the European Media Freedom Act could serve as a pillar to protect it. This was summed up in one particular quote:
"By working together across borders, media are stronger. We have seen the incredible results of cross-border investigations. I also believe that such networks and solidarity make it more difficult for states to interfere. The EU is committed to supporting investigative journalism because this is what democracies should do."
The first panel of the day, Dangerous Journeys: The Dark Side of EU Migration Policy, explored the harrowing tales of migrants in Europe, as uncovered by teams of investigative journalists. The session was moderated by Lars Boering, Director at EJC, and featured input from investigative journalists Geesje van Haren and Annie Hylton, as well as writer and documentary producer Judith Chetrit.
UNCOVERED then continued with Surveillance: Is Pegasus the Tip of the Iceberg?, a panel moderated by Jamie Wiseman, Advocacy Officer at the International Press Institute. During the discussion, Frederik Obermaier, Investigative journalist with Süddeutsche Zeitung and Lisa Dittmer, Advocacy Officer for Internet Freedom at RSF Germany discussed their experiences with Pegasus spyware, its impact on investigative journalism, and what journalists can do to protect themselves. Central to the discussion was the notion that Pegasus, and spyware more generally, poses a serious threat to investigative journalism, as encapsulated in the following quote from Frederik Obermaier:
"I myself started – even in encrypted communications – to use codewords with colleagues and not to put their names in there… That tells you a lot about the state of the surveillance industry and the global threat. Pegasus is a weapon to silence journalists."
The final panel of UNCOVERED 2022 shone a light on one of the most pressing issues facing journalism today – the safety and wellbeing of freelancers. Moderated by Scott Griffen, Deputy Director of IPI, Duty of Care: Who's Responsible for Protecting Freelancers?, outlined the key challenges facing the most vulnerable group in news media and what can be done to support them. The discussion took on a particularly pertinent tone, given the high number of young, often inexperienced freelancers, travelling to Ukraine to cover the ongoing conflict. The panel, made up of Gürkan Özturan, Media Freedom Rapid Response Project Coordinator at ECMPF; Renate Schroeder, Director at the European Federation of Journalists; and Anastasia Kirilenko, Russian freelance journalist, reflected on the dire state of freelance journalism today. Unfortunately, several interventions from panellists revealed that many freelancers accepted their hardships as par for the course, as illustrated in a quote from Gürkan Özturan:
"Sadly we have been hearing that "it comes with the job" – when you get beaten at a protest, when your newsroom says you must give up your gear, when you get traumatised or harassed online. No, this does not "come with the job".
---
Watch the recordings
Full recordings of Day 1 and Day 2 of UNCOVERED 2022 are available below.
Day 1
Day 2
---
If you are interested in participating in next year's conference, you can follow ECPMF on Twitter here or subscribe to the IJ4EU UNCOVERED newsletter for all the latest updates.